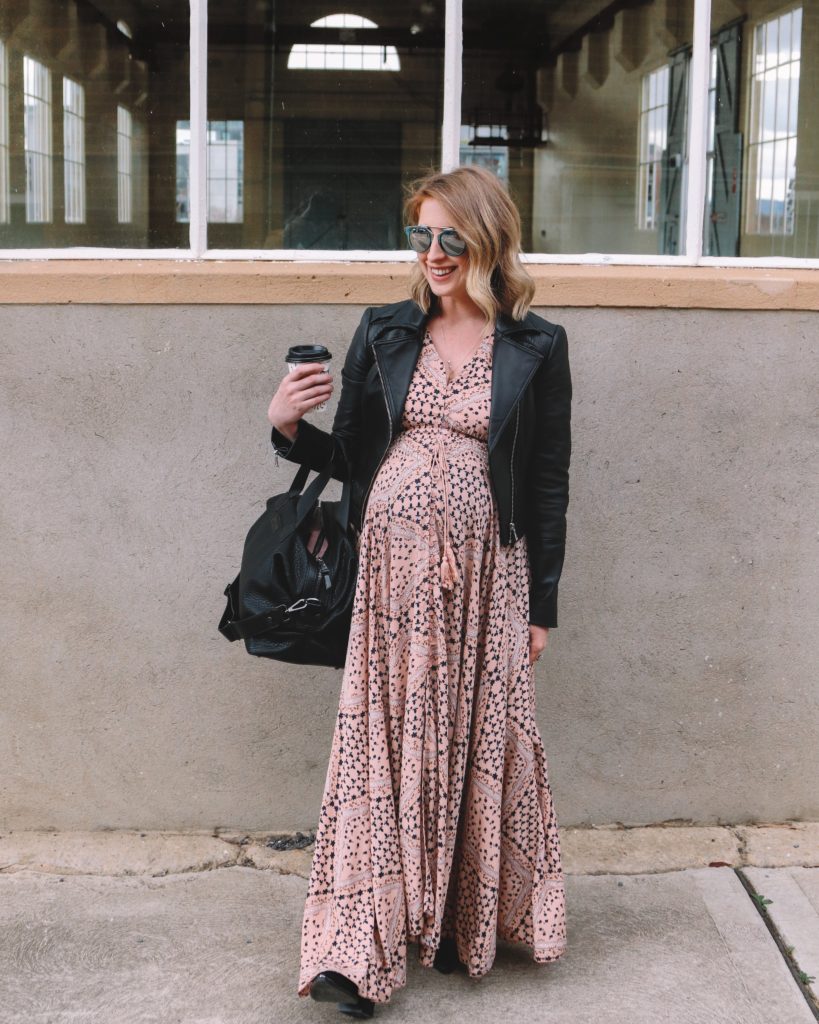 Being pregnant is tough, you're exhausted, nauseous and your body goes through countless other changes (and that is an uncomplicated pregnancy)! The last thing you want to worry about is how to dress yourself. So before my baby brain erases it forever, I have the completely selfish desire to record it all down. After my first pregnancy I thought I had it sorted, but this time around I was surprised to discover so many new labels on the market which make dressing a pregnant body so much easier! You see it's not all rock tees and rolled down jeans (as Pinterest would have you believe). It's a daily struggle when your body already has better things to do, like growing a small human. Here's my guide on how to make it look effortless.
First Trimester – Yay you're pregnant! But you probably don't want the whole world knowing until you're a little further along. You will most likely be struggling to fit in your skinny jeans and gravitating towards styles that are looser and more comfortable than your usual style. Welcome to dressing for your first trimester! While you can still fit into most of your clothes go through your wardrobe and gather all the styles that fit and place them in a prominent position in your wardrobe. Anything that doesn't fit, store out of sight, you don't want to be looking longingly at them for the next 9 months, forget all about them.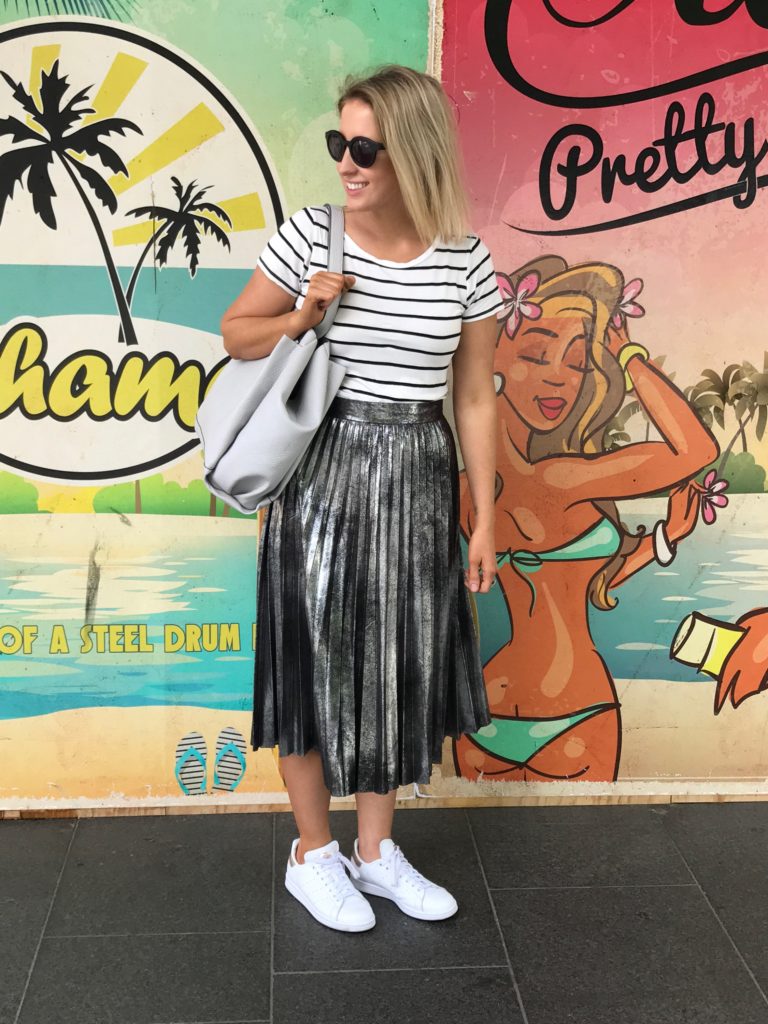 I didn't know I was pregnant here but started choosing looser styles almost by instinct…or I looked in the mirror and noticed I was getting fatter, who knows right?
Don't go overboard with buying maternity clothes at this stage. The pieces that fit you now almost certainly won't in 9 months time. Not to mention it will be a totally different season by then. If you are pregnant in Summer, go for dresses that will grow with you, extra points if you'll be able to feed in them. Sandals you can slip on will be your go-to shoe, buckles require bending down, something you won't be able to do for long!
If you're lucky enough to be pregnant in the wintertime, like myself, invest in a quality pair of maternity jeans, making sure you have room to grow. I preferred ones with an over the bump band as all the others fell down on me.
You might want to think about getting a pair of maternity support leggings too. I bought mine WAY too late in the game and I so regretted it! These will be the last man standing when you're waddling through those final third trimester days. Trust me you won't fit into normal pants…you just won't!
I also bought an inexpensive elastic jean extender and it honestly got me 3 extra months of wear out of my normal jeans. You could use a strong hair elastic twisted around your top button but I had a very unfortunate wardrobe malfunction doing this, so wouldn't recommend it!
Long knit tops will be your best friend. Don't be tempted to buy regular length tops as your bump will poke out the bottom once it gets some size! Avoid chunky knits as the name suggests you will look chunky, instead go for knits with a nice drape that skim your bump. You will probably have bigger boobs than normal (most definitely…get ready for it), so try tops and dresses with a round cut or v-neckline. I found long sleeve tops with a tighter cut around the sleeves to be the most flattering, as your arms look proportionately smaller as your bump gets bigger.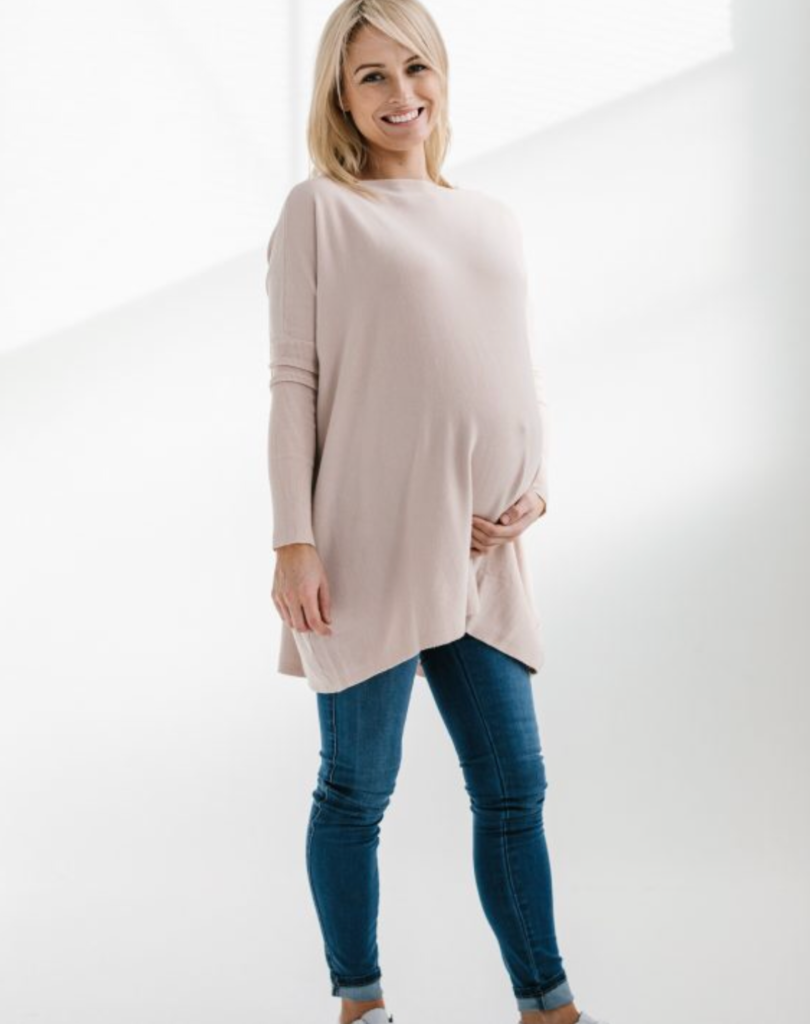 Second Trimester – Welcome to The Golden Age of Pregnancy! You may feel a little better by now and you probably aren't waddling just yet, ENJOY IT! You now have my permission to buy some more maternity pieces but not without going through your wardrobe again and removing items that no longer fit. This will make the daily 'what am i going to wear dilemma' easier to manage.
If you're still working at this stage, you've probably ditched your pencil skirt along with your ability to tolerate small talk. Now is the time to get a few key, work appropriate, pieces that you can style different in ways. Bonus points if you can wear/work/feed in them after baby comes. Think roomy shirts and dresses you can button up, stretch skirts with elasticised waistbands and maternity tailored pants. Choose neutral shades to get more wear out of less pieces and go for natural fibres that let your hot little body breathe!
Third Trimester – By now you're probably filling out most of your remaining clothes, but that's okay because this is the time to let that bump shine! Wearing form fitting stretch dresses and tops will stop you feeling like a blob and make you look like the curvy goddess you are! Keep in mind though this pregnancy won't last forever (even though it absolutely feels that way!), so ask yourself 'can I wear this after baby?' if making any new purchases. You will most likely be spending more time at home in the final weeks of pregnancy and once baby arrives (I may have watched an entire season of GOT on my first day of maternity leave), so you will want to be comfortable. While I'm a huge fan of pyjamas there is a whole other maternity category that has sprung up since I had my first baby…leisure wear! Oh yes, some genius mamas have designed clothing that feels like pyjamas but you can actually answer the door in! Think drop crotch stretch pants, soft cotton feed tops and silky kimonos.