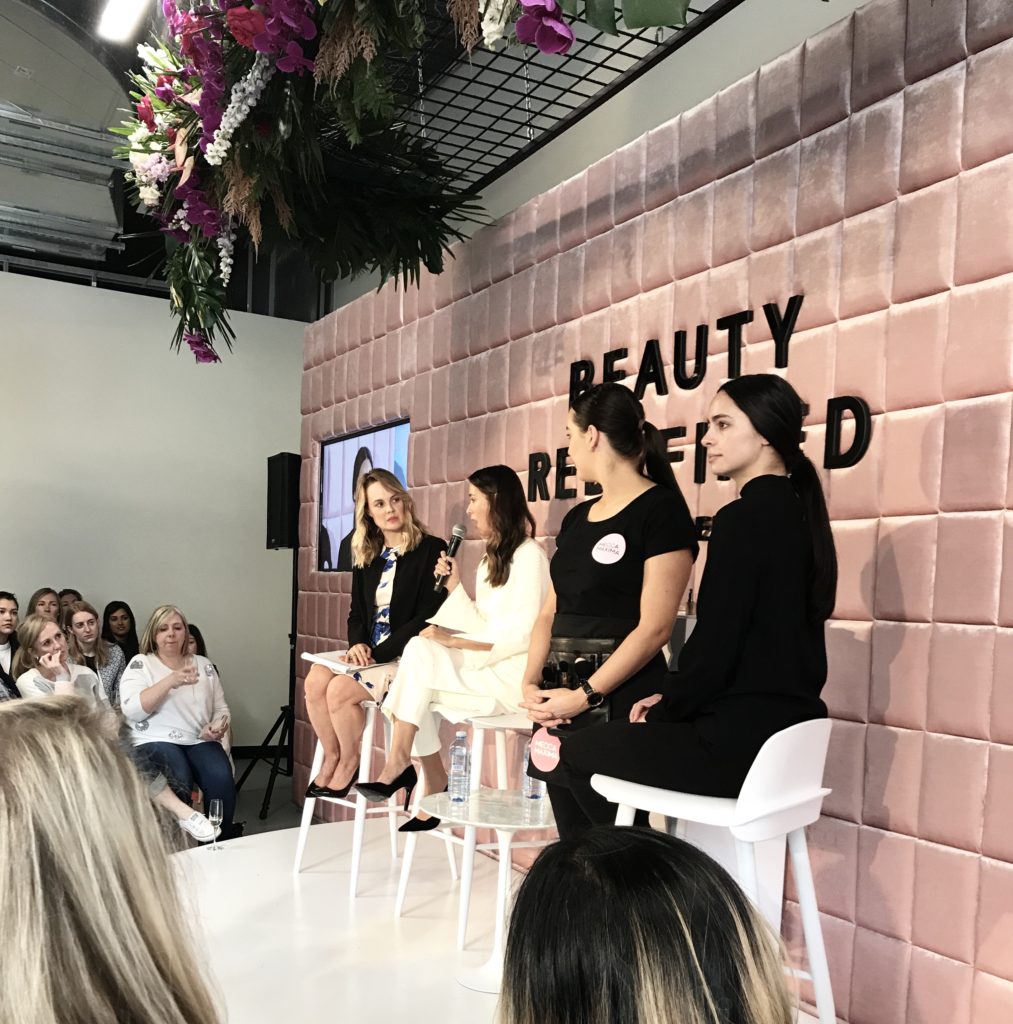 It's not everyday that an entire beauty precinct opens up on your doorstep and one of your beauty idols is invited to host a beauty masterclass. So to say I had to make a concerted effort to keep my fangirl vibes to a minimum, would be slightly understating it. For those of you not yet aquatinted with rising beauty queen Eleanor Pendleton she is beauty editor royalty (descendent of Zoë Foster-Blake) and founder of go-to beauty website and online magazine Gritty Pretty, not to mention just a straight up, beautifully warm, no nonsense human who epitomes effortless style. If this girl had any advice to give, you can bet I was lined up early to hear it.
With her face glowing brighter than the push, pink velvet backdrop she was perched in front of and her understated elegance looking equally appropriate for a brunch in Bondi or fashion week in Paris, she opened up about her business, her work/life balance and of course how to achieve her signature minimalist make up look.
On Skincare she emphasised using your morning and evening routine as time to yourself. She is also a fan of meditation, getting enough sleep (although admits she doesn't) and looking after yourself.
On how to achieve a Minimal Day Look her techniques and products are as follows.
Wear a Liquid Illuminator under your foundation but only apply on the high points of the face. Avoid matte foundations and powders that can make your skin look older.
For Foundation she recommends NARS Sheer Glow, applied with fingers to warm the product. I personally use this foundation also as its one of the only brands that have a colour light enough for my pale skin without making me look pasty!
Her top choice for Concealer is NARS Creamy Concealer applied over the top of your foundation. This is so you don't end up wiping most of it away when applying your foundation.
She goes for NARS Laguna Bronzer (as a lot of beauty editors, make up artists and female humans do) and even applies to her eyelids as well as her cheeks.
When it comes to a Highlighter she tends to stick with Urban Decays's powder highlighters, applied with a small brush so you don't look like a light bulb. I'm suddenly realising how she looks so dewy and glowing for an early morning on a Saturday!
For Mascara she recommends curling your lashes with a slightly warmed curler and applying Stila Major Lash over the top.
Lastly for Lips Hourglass No.28 Lip Treatment Oil is her winter go-to, she's a strong advocate for using oils as they are hydrating and don't make your skin oily, country to popular belief.
So there you have it, a totally no nonsense approach to beauty and life. Fangirl status permanent.