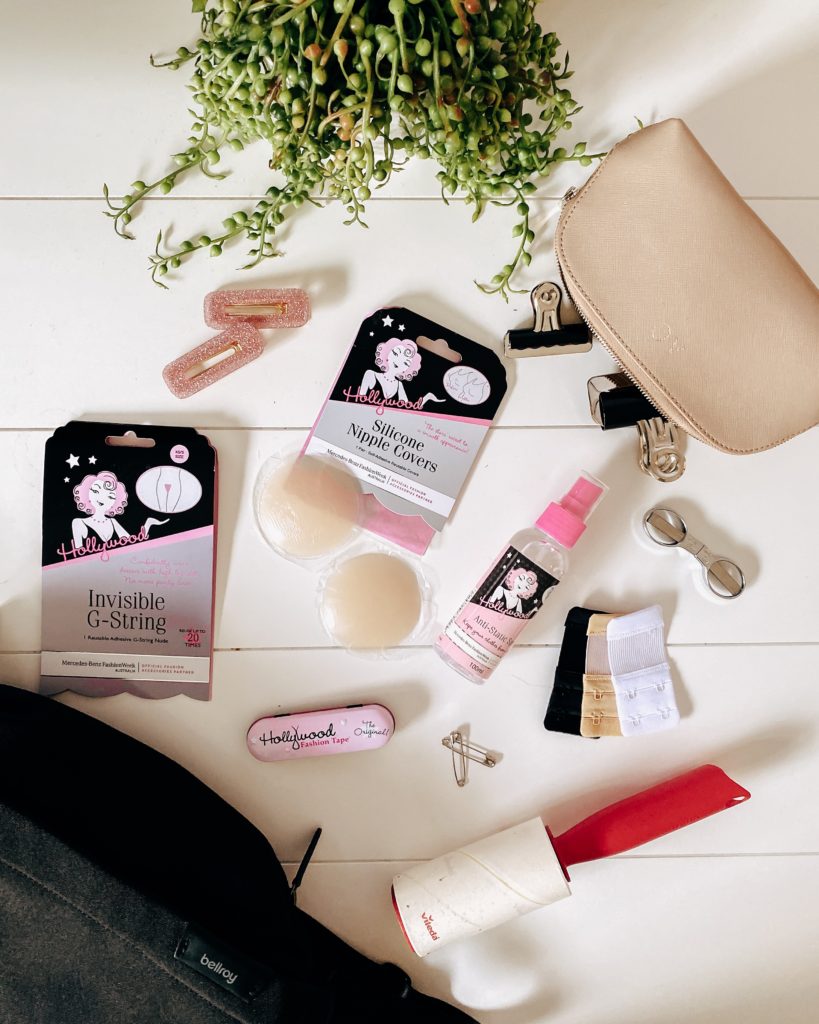 As a stylist it's my job to make people look good and feel confident in what they're wearing. My first step is always making sure they feel comfortable and everything is fitting properly. If your shirt is gapping or your bra strap is showing, it's hard to feel at ease. You have to be ready for anything when styling clients for events or on set, so every stylist worth their weight will have a kit with them at all times. I've been carefully curating mine over the years with must-haves for keeping outfits in place and avoiding a stylist's worst nightmare…the wardrobe malfunction! These products are a god-send and definitely worth having on hand in your wardrobe.
Double Sided Fashion Tape – I don't go anywhere without it. It lives in my handbag as well as my kit. I use Hollywood Fashion Secrets as it comes in pre-cut strips, and a very convenient tin. Sure you can buy double sided tape on a roll and cut it up, but I don't have time for that, do you?
Lint 'Sticky' Roller – You can buy some pretty ones out there but they tend not to have a lot of tape on the roll. I just get the standard supermarket option.
Bra Band Extenders – These are great if you've put on weight or are breast feeding and need a little more room in your too tight bra. I like this pack as it has a black, white and beige colour in one. 
Bras Strap Converting Clips – I use these all the time for razor back tops and dresses. These are super handy when you have a quick outfit change. 
Nipple Covers – These are particularly great if you have a smaller chest and don't need the support of a bra. You can get them in Silicone or Satin fabric finishes.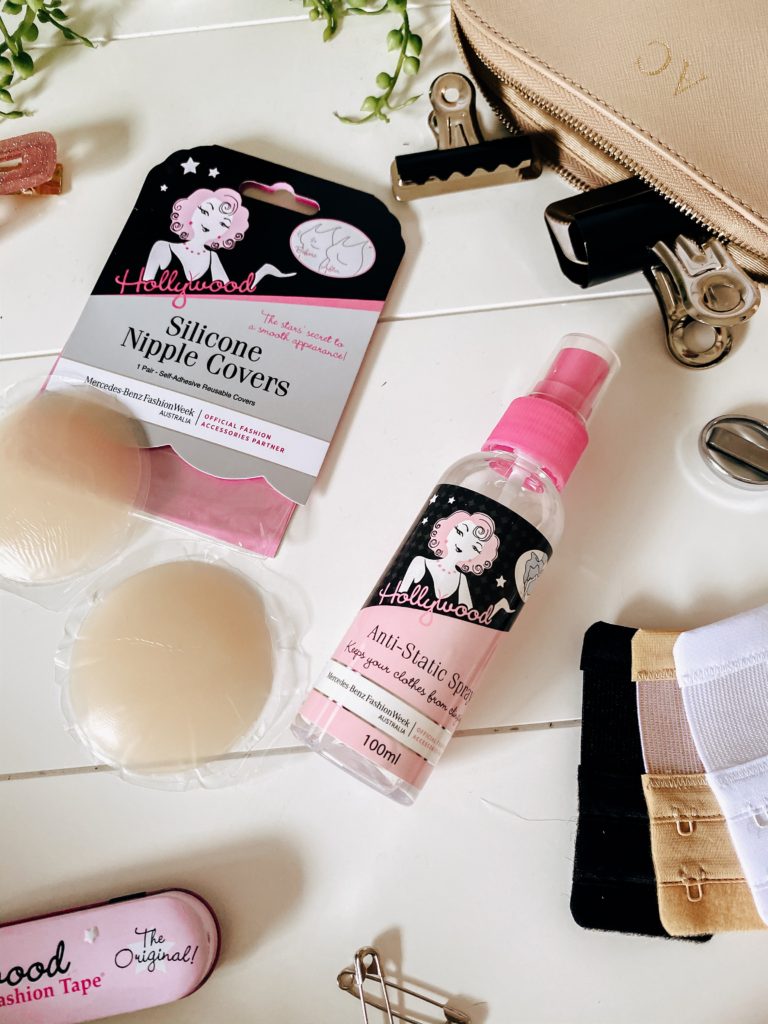 Anti-Static Spray – It's the worst feeling when a dress won't stop clinging to you! I spray this on clingy garments after washing and before drying. 
Invisible G-String – The wrong underwear can totally ruin the look of an outfit. Even standard G-Strings can create a panty line. I'm not a fan of stepping out sans-nickers either, especially when hiring your event look! So I use these adhesive G-Strings that can be washed and re-used up to 20 times.
Sewing Kit – I have a travel sized one that includes safety pins, pre-threaded needles in black white and nude and tiny nail scissors.
Shoe Comfort Kit – These adhesive gel cushions and heel shields feel like heaven after wearing heels for a few hours! Some ladies like to pop them in their shoes mid event but mine live in my favourite pair of heels and stay there always. 
I'd like to thank Hollywood Fashion Secrets for sponsoring this blog post and keeping my kit well stocked for over a decade!
As there are many more products I regularly use (and I am notoriously slow at writing blog posts), I have split this post into two parts. Part II coming soon!