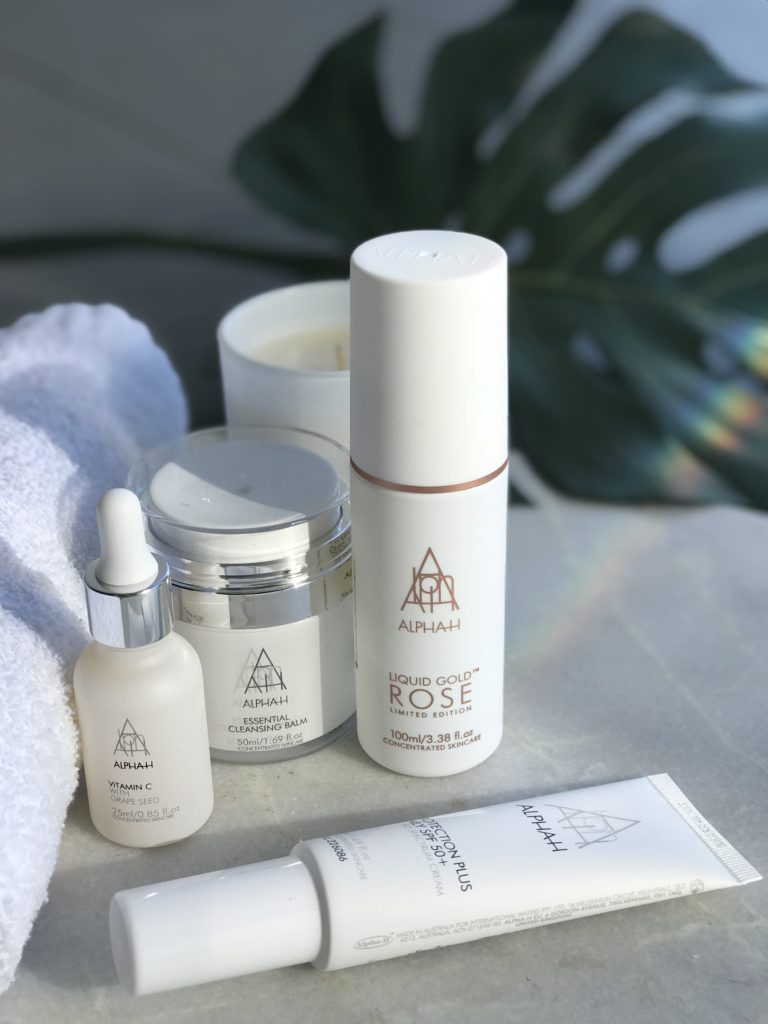 Well the weather is finally heating up here in Australia, I must admit it's my favourite time of year! I spend a lot of time outside at barbecues, pool parties and the beach, so it's time for this fair maiden (pasty mama) to up the UV protection! Even though I keep the sunscreen up all year long I find my skin needs more protection and less moisturising in summer. So I've put together my daily summer skincare routine as well as a few of my tips and tricks to keep skin looking fresh and age-resistant.
Cleanse – Because I use a waterproof foundation in summer (Urban Decay All Nighter) I take extra care to remove it, so it doesn't clog my pores. For that I use Alpha-H Essential Cleansing Balm as it emolsifies beautifully with water and smells amazing (it contains rose hip and Geranium essential oils). You can also use this as a leave-on overnight repair balm. I love it when products have more than one purpose! To make sure all make up is gone I then wipe on some Mecca Cosmetica Clean Slate Micellar Water with a cotton pad.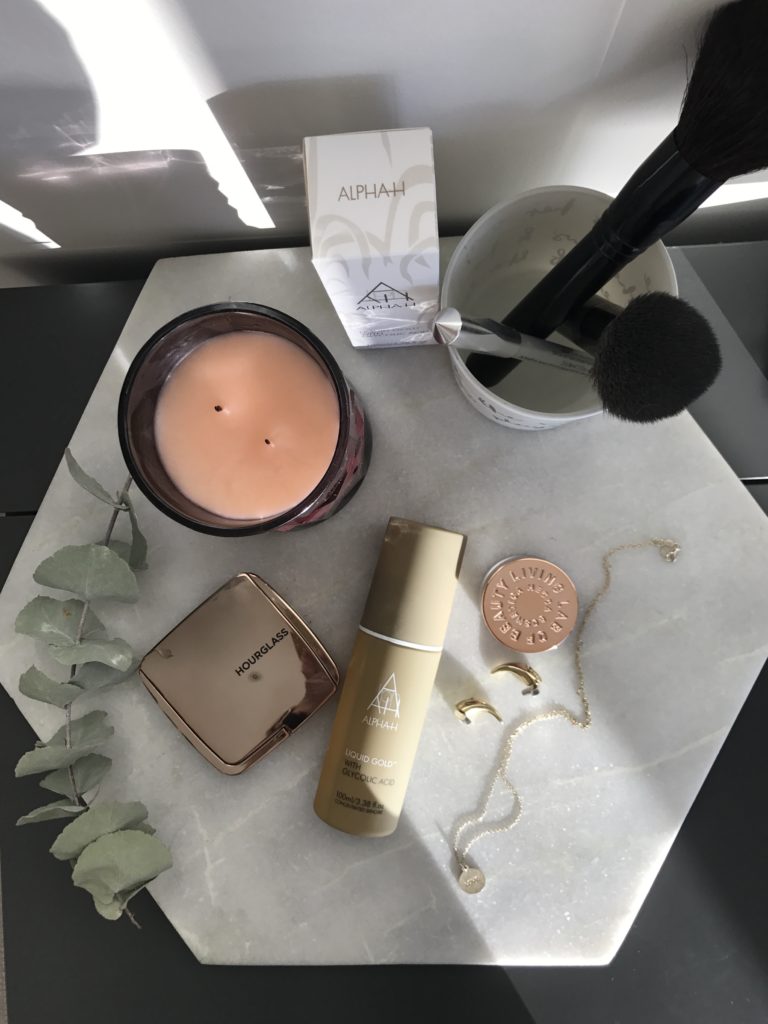 Tone – Two or three nights a week I will use Alpha-H Liquid Gold Rose before bed, this is the limited edition rose version of their cult classic Liquid Gold. I could literally write an entire blog post on this product! The best way I can describe it is a glycolic acid resurfacing treatment/aromatic sleep-in facial with a stack of botanicals and minerals that changed the texture of my skin to something rivalling my newborn. They are discontinuing the Rose version next year so get in quick ladies!
Vitamins – Twice a day after cleansing I use a few drops of Alpha-H Vitamin C with Grape Seed. Vitamin C is known for it's brightening properties, something I can attest to after being sleep deprived for about the last four years. Although I try and eat a lot of fruits high in vitamin C applying it topically is 20 times more effective than the oral form in terms of skincare!!
Tan – There is nothing like a nice tan to make you look relaxed and effortless. About once a week I use Eco Tan's Face Tan Water . This is a tanner and toner in one, it has Hyaluronic Acid in it so will tone the skin help it to absorb moisture.
Moisture – In the morning after using Vitamin-C serum I use Alpha-H Protection Plus SPF 50+( they work really well together). Its broad spectrum and long lasting and what I particularly love is the pretty nude/pink tint through it so no ghostly white 'sunscreen' look! At night I either just leave the Liquid Gold to work it's magic or use Korres Black Pine Firming, Lifting & Antiwrinkle Night Cream.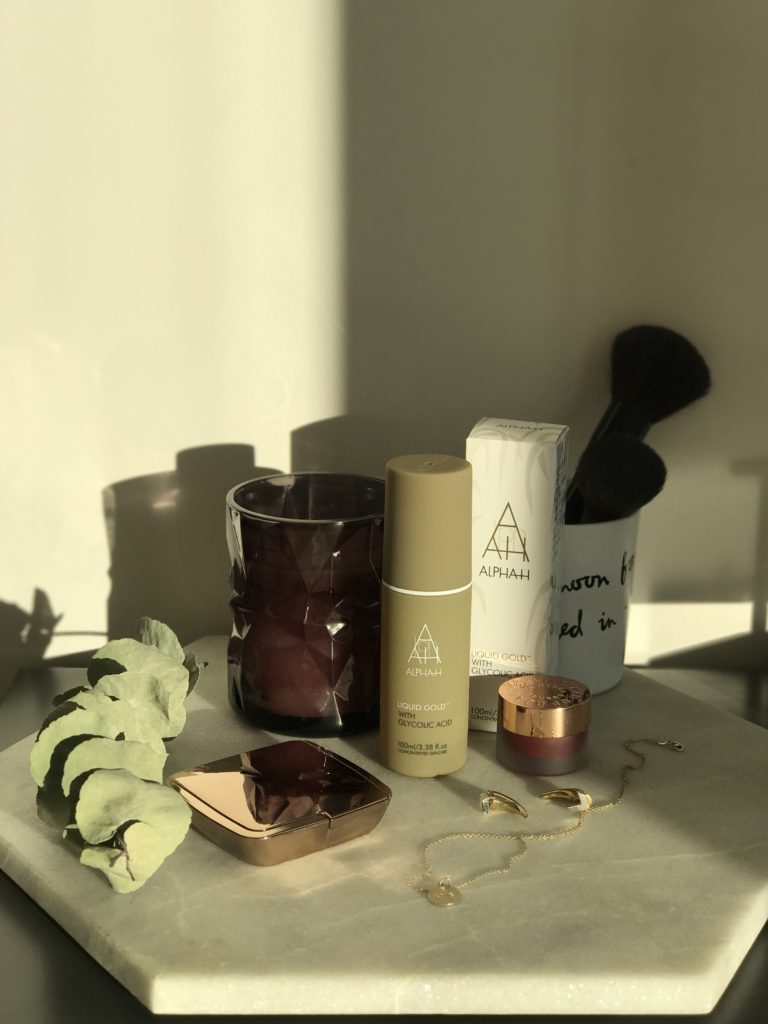 Masks – At night I will more often than not put on a moisturising face mask, pour a glass of wine and relax. One of my favs at the moment is Missha Herb in Nude Moisturising Mask, leave it on for 20 mins and once you take it off there's no need to rinse. Just pat dry and finish said glass of wine!
Beauty Tip – change your pillow slip over to a silk one, Mulberry Silk is the best. I never wake up with pillow creases on my face anymore and get at least 3 days extra from my blow-drys.
Enjoy,
Amelia XO